What Things Should You Have Ready for Your New Puppy?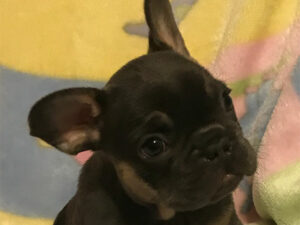 You've brought your wonderful puppy home and what an exciting moment that is! Your puppy will be getting used to the new environment, and you'll want to spend time with your new pet.
How Should You Prepare for that Moment?
There are things you'll need to take care of for your pet. If you plan ahead and get what you need, you don't have to scramble after bringing your pet home.
French Bulldog Checklist
Dog collar and ID tag. Even if your dog is micro-chipped, there's nothing like having a traditional collar and ID tag. Put your pets' name and your name and contact information on the ID tag.
Leash and harness. The advantage of a harness is that it's choke free and doesn't pull on the dog's neck when you go for a walk. How long you want the leash is a personal decision. The standard size is 6 feet. Wikihow provides lots of facts about leashes if you want all the information to make up your mind.
The little ones love to chew and that's part of the process for growing their permanent teeth. You may be surprised how powerful their little jaws are and how mighty their chewing is, so have plenty of chew toys on hand.
Dog food. You can check with us to find out what type of dog food we've been feeding our puppies. It's a good idea to use the same type of food as the breeder and not suddenly shift the puppy's diet. If you change the diet, it's best to introduce the new food slowly, gradually over a period of a week. That way the puppy won't suffer from any digestive problems.
Food and water bowls. You'll need bowls to put the puppy food in and a separate bowl for water.
Dog Treats. Low calorie treats work great for the dogs and also can be used as rewards when you start training them.
Doggie gates. If there are certain areas you want to prevent your puppy from entering, a gate is the answer.
Pet odor and stain remover. You can get an enzyme remover that works well on removing urine, feces, vomit or other mishaps.
Doggie bed. If your dog has a bed that meets its sleeping needs, it will help your pet sleep better and reduce the likelihood of the pet bothering you while you sleep. Hartz explains a number of reasons for getting your dog a bed.
We have two puppies left — a male and female. Check out our puppies.