Why Are French Bulldogs a Favorite?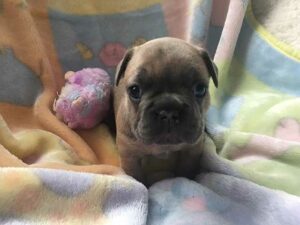 French bulldog puppies for sale! It was an exciting moment when our female gave birth to puppies and equally exciting to put them up for sale. In general, French bulldog owners are a passionate group of dog lovers, and for good reasons. French bulldogs make great pets.
Frenchies are very popular and rate high on the list of sought after dogs. The American Kennel Club (ACA) ranks dog popularity based on breed. If you're curious, check out their dog breed popularity list. It may come as no surprise that Labs were number one, followed by German shepherds and golden retrievers, but these were all large breeds. What was the number one small dog? Frenchies! Frenchies ranked number four on the dog popularity list.
What Do People Love About Frenchies?
Frenchies are very affectionate companion dogs and enjoy getting lots of attention. They are clever, have a sense of humor and take pleasure in making people laugh. It goes without saying that they are very social animals. They get along with everyone and make wonderful pets for the elderly and families. Due to the fact they were bred to be companion dogs, they typically become very attached to their families and owners.
Their short coats are easy to care for and they don't shed much. They are also low maintenance when it comes to exercise, and a 15 to 20 minute walk is usually enough for them. In this respect, they are also a good choice for owners who live in the city or in apartments.
All Our Puppies Are AKC Certified
What does AKC certified mean? American Kennel Club certified or registered means the owner received an AKC registration certificate for the dog. AKC Registration ensures the quality of the breed and provides a number of benefits, including a Training Helpline available 7 days a week where expert trainers offer support and advice.
We have genetic testing done on all of our puppies. The testing provides information regarding:
Breed identification and ancestry
Identification of disease-causing mutations
Prediction about possible adverse effects from certain medications
Check out our puppies. We have some adorable French bulldog puppies for sale and we are hoping to find them good homes.